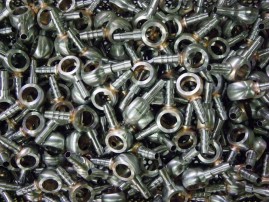 Special fittings /
Connectors JIC, ORFS, BSP /
A connector is a mechanical bond between two tubes, allowing the circulation of fluid without any leaks. Connectors are standardized .
A special connector is not standardized. It is produced specifically to the customers' needs.
They are designed to respect the industrial standards SAE, ISO, DIN and JIC.
Thanks to our different know-how like undercutting, assembly, brazing and airtightness, we can produce hydraulic connectors and special fittings.
The connectors can be in steel or stainless steel.
Our airtightness test bench enables us to assure a 100% control on our connectors. This option is necessary for our SR connectors.