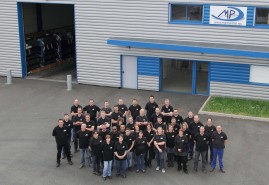 METAPLAST SAS - BENDING WELDING BRAZING /
Specialized in bended tubes and specific connectors /
METAPLAST was created in 1986 by Daniel PIQUET, and bought over by its Production Manager in 2005.
METAPLAST is based in the North of Blois at the A10 Motorway Exit. It has 5 200 m² shop floor.
METAPLAST was first specialized in machined parts and specific brazed connectors for hydraulic use.
Over the last 25 years, METAPLAST has developed different know how to be able to propose a global offer to their customers, such as assembly and kitting.
METAPLAST has also developed a partnership with Rhône Alpes Flexible, enabling us to propose a combined hydraulic assembly (Tube swaged on hoses, etc..).
Our know how :
Standard and specific connectors (fuel, hydraulic, gas, water, biofuel ...),
Bended tubes for fluid transfer,
Structure welding assembly (such as desks, wheelchairs, beds, etc),
Brazing,
End Forming, ...